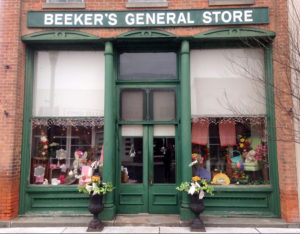 When I sat down to design our PUSH and PULL bronze door signs, I had a particular set of doors in mind – Beeker's General Store in Pemberville, Ohio – one of Ohio's oldest general stores.  I wanted the design of the signs to be something that would fit right in and look like they were as old as the doors themselves.  Brian, the head man in our foundry, suggested wire brushing the raised surfaces instead of the normal 'grinding.'  This would allow the slight imperfections from the casting process to show through and give the sign an aged look.  This was a fantastic idea and the test run on the first samples turned out beautifully.
The ornate decorations cast into the top and bottom surface of the sign are very reminiscent of late 19th century castings you find elsewhere.  The black oxide coating in the background really makes the decorations pop!  Each sign is lacquer coated to protect the surface because I'm sure that as soon as these are on your door everyone will want to feel them.
Since this sign would be located in a place where hands would be touching it regularly, it was also important to not have any sharp edges.  The screw holes are 'countersunk' and we supply a flathead screw so the screwhead does not protrude above the surface of the sign.  Initial response to the signs has been fantastic and we are very busy casting more!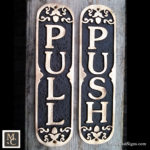 As with all of our signs here at The Metal Cast Sign Co., our PUSH and PULL signs are our own exclusive design and are made right here in the USA.