I decided to create a sign for my daughter for Christmas… actually it was a late birthday gift that I gave her at our family Christmas get-together.  She has worked very hard the last several years getting her teaching degree – then getting her Masters in Special Education.  Yes, I am a proud Papa.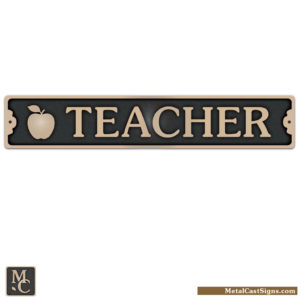 It was such a treat to see her open the package and watch her eyes light up at this solid piece of permanence – a sign declaring her a teacher!  She felt the weight of it in her hand and carefully turned it over – all the while feeling the metal in her hands.  She ran her fingers across the raised apple and lettering.  Needless to say, my daughter was touched with my gift to her of a cast bronze Teacher sign.
This Teacher sign is one of newest additions to our line of Professional title signs.  This line includes Engineer, Brewmaster, Wine Master, President, Captain, and more!  Check them out today at www.metalcastsigns.com.
Save
Save