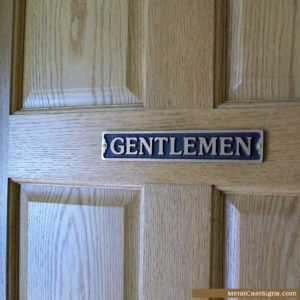 The world is full of signs – road signs, billboards, business signs, political yard signs, signs in a department store. Most of these are generic 'provide the info you need and move on' signs and that is fine for most situations. For high end, upscale situations, a better sign is needed. One that will take you back to a day when detail mattered. A sign that exudes finesse and class. Our metal cast signs fill that void.
Our signs are professionally designed with emphasis on font selection, readability, and classic look and feel.  Sign mounting is an important part of this process.  Selection of mounting hardware; flathead or round head, bronze or zinc coated screws is taken into consideration.  From final design, molds are made and samples are cast to ensure all details are correct.
Our traditionally sand cast signs are Made in the USA in a small village foundry with a serious dedication to detail. During the finishing process, each sign is handled multiple times by foundry artisans ensuring a product that you will be proud to display.
Most signs are available in bronze or aluminum so you can match to the decor of your surroundings.  Please contact us with questions.
Save